Grilling Goodness #23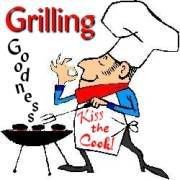 I am always excited about doing this. Is there a better way to get to know such random, quirky things about people that build friendships?
1. Are you competitive? Are any people who know me reading this?..No... Ok good... No way. I am the most easy going, humble person you'll ever meet!
2. What do you most often eat for breakfast? usually raisin bran or something similar
3. Do you have a 'raggidy' piece of furniture? My kitchen table has been with me since I moved out on my own 11 years ago, I got it at a yard sale for $20 then, with chairs!! It is solid wood, just ugly.
4. What do you wash your face with? 10% benzoyl peroxide cream. But hopefully after my derm appt. on Tuesday I'll get some magic stuff so I won't need it anymore.
5. What colors does Spring make you want to wear? Blues, greens, rosy pinks
6. Do you like working your flower beds? I do veggies, but I recently killed the cactus my daughter got me.... Yes you heard right.... I Mary KILLED a cactus. It can happen, it isn't a myth.
7. What is something you want that you've never had? No guys reading I hope.... Boobs!
8. How many miles do you have on your car? 260,000 + miles GO, JEEP!