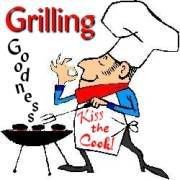 Yay, Friday!!! Grilling Goodness fun. Click on the button above to play along. Hosted by
Golden Goodness
.
1. Do you prefer to write with pen or pencil? I love pens....you know the sound the pen makes when you use just one sheet of paper like on Sixteen Candles when she was exchanging notes in class with her friend about Jake..... anyway I decided I liked pens way back then...
2. What was off limits to you growing up that you do all the time now? nothing really....hmm.... I do recall saying quite often, when I grow up I will....but I guess when you grow up it doesn't seem that important anymore.
3. What is the age difference between you and your spouse? 11 months 2 weeks, I am older.
4. Did you hurt yourself in anyway this week? I burned my hand making 'sugar doughnuts' for LadyBug
5. Do you like wallpaper enough to hang it in your home? I've been thinking about this. I think I like it for small projects but not a whole wall.
6. What do you need to do that you've been putting off? mop
7. What did you do this week that you wish you hadn't? I'll have to invert the question. I wish I would have played princesses with LadyBug yesterday.
8. Did anything keep you up late this week? Jay Leno