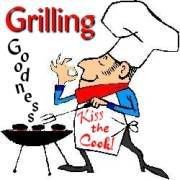 ~~~~~~~~~~~~~~~~~~~~~~~~~~~~~~~~~~~~~~~
Here it is. Grilling Goodness, this is always fun!
1. Did you learn anything new this week? I learned that God wants me to be quiet and just love sometimes.
2. Will you wear green on St. Patty's Day or do you not give a hoot?? I'll wear it Wed. for LadyBug's school party.
3. Do you wash clothes throughout the week or only on a specific day? I try to wash them as each sorter gets full. I tried doing it only on Mondays but nothing smells worse than dirty work clothes and whites...Peeyeww! I average at least one load per day.
4. What is one of the most popular 'spams' you get in your junk email inbox? Eversave recipes.
5. Are you where you want to be? (you decide the meaning of the question for your answer) In life I am a work in progress. Physically I'd like to be in our new house and in drop-dead gorgeous shape..... hey, I can dream, right!?
6. Do you know how to swim? Not very well. I can not tread water at all.
7. Do you take trips with your girlfriends? No. And honestly, I am fine with that. My heart is with my family.
8. What was your favorite purchase this week? (big or small) Hahaha. A new bra. For those of us....uhm....smaller people, finding one that actually fits..... in more than one direction.... is quite a feat.
~~~~~~~~~~~~~~~~~~~~~~~~~~~~~~~~~~~~~~~